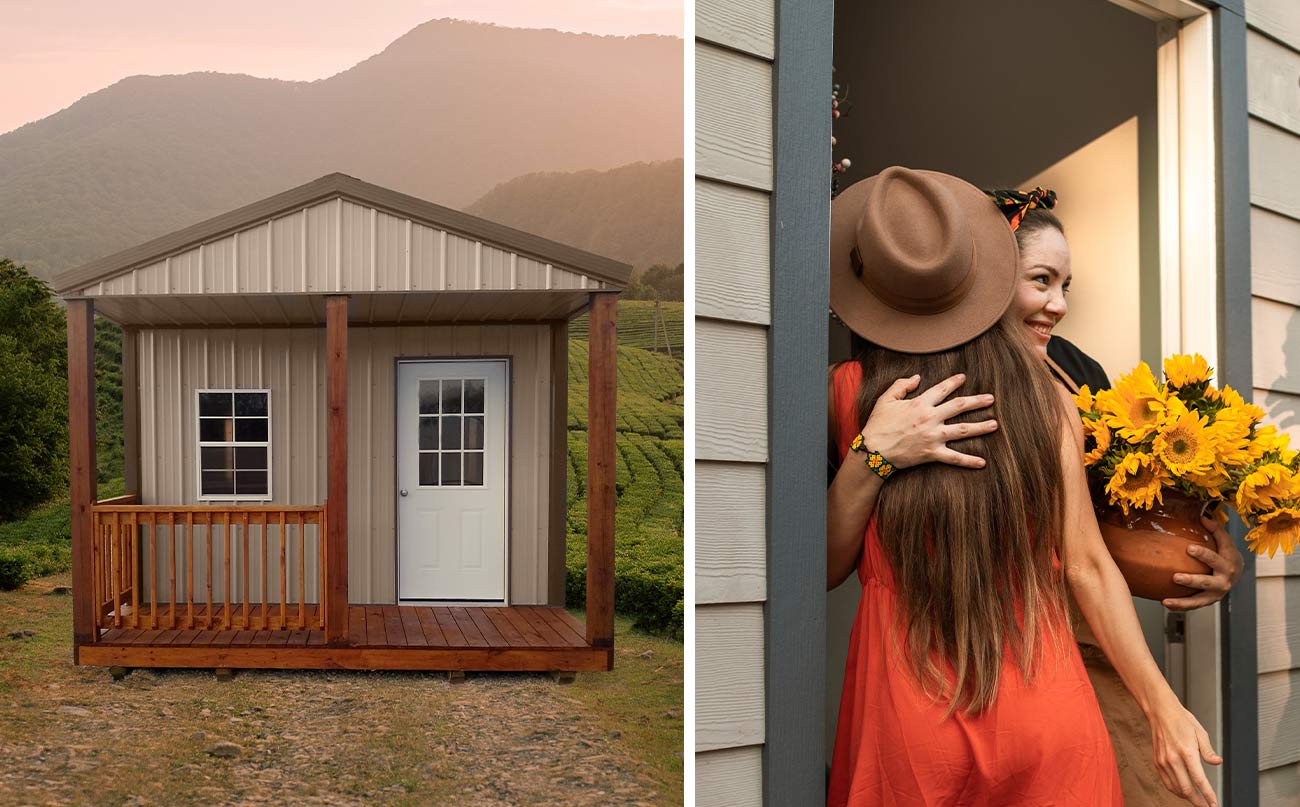 Why Build a Backyard Shed for Your Guests?
When you're entertaining guests, you ensure they are comfortable and can move freely at home. But when your home space is cramped, how can you provide a comfortable environment for entertaining? One thing you can do is build a portable shed in your backyard or a part of your home for your guests to rest. 
Having a backyard shed for your guests can provide an AirBnB-like experience since they will feel as if they are staying in a comfortable residential space. Having a shed in your backyard is also advantageous because you can store your tools and other equipment. 
Here are other benefits of buying a portable shed for your guests:
A Comfortable Private Space
Turning your portable shed into a guest house is a win-win solution for you and your guests. Instead of your guests staying at a hotel and paying for it, they will be able to have a private backyard space where they can rest. Your guests will also enjoy staying at your home because they don't have to travel to their place whenever they have a gathering or event.
Aside from that, they avoid potentially awkward situations where they sleep in the room next to you, and you have to spend time with each other the next day. With the guest house in the backyard, you have your privacy, and your guests can have theirs.
Additional Features
Once you recognize the ins and outs of your shed, you can now plan all the features you want to add to it. No need to stick to the traditional guest house features. Customize it to your liking and make it more feature-rich. 
For instance, you can place a mini kitchen inside the shed so that your guests have their own space to cook. This feature will also benefit you because you can cook inside the guest house and not in the primary place where your kitchen is.
Multiple Functions
Aside from being a guest house, your portable shed can be used for purposes other than just accommodating guests. It is also a perfect addition to your home if you have limited space at home. It is portable so that you can bring it anywhere you like. 
You can also use it as a mini studio or studio office. You can also set up a display area or a mini shop. This portable shed can be a huge help when you want additional storage.
Things to Consider When Building a Backyard Shed for Guests
Although building a guest shed in your backyard is exciting and convenient, you must consider certain things. 
Layout and Size: How large is your backyard? How far is the area where you want to build your guest shed? What is the size of your guest shed?
Design: You can either have a custom-built guest shed or purchase one. If you want a custom-built shed, you can hire a design consultant to help you with the features you want and any other creative ideas for the shed.
Location: Where will you place your guest shed? Is there enough space to place a small house near the main house? Do you want to put it in the middle of the yard or near the main pathway? 
The Takeaway
Having a portable shed in your backyard can be highly beneficial. You and your guests get to enjoy a beautiful and functional backyard, and with proper maintenance, you'll reap its many benefits for many years to come.
Mountain View Barns is the place to go for portable sheds in Tennessee. We offer buy or rent-to-own options. Get in touch with us today for more information.