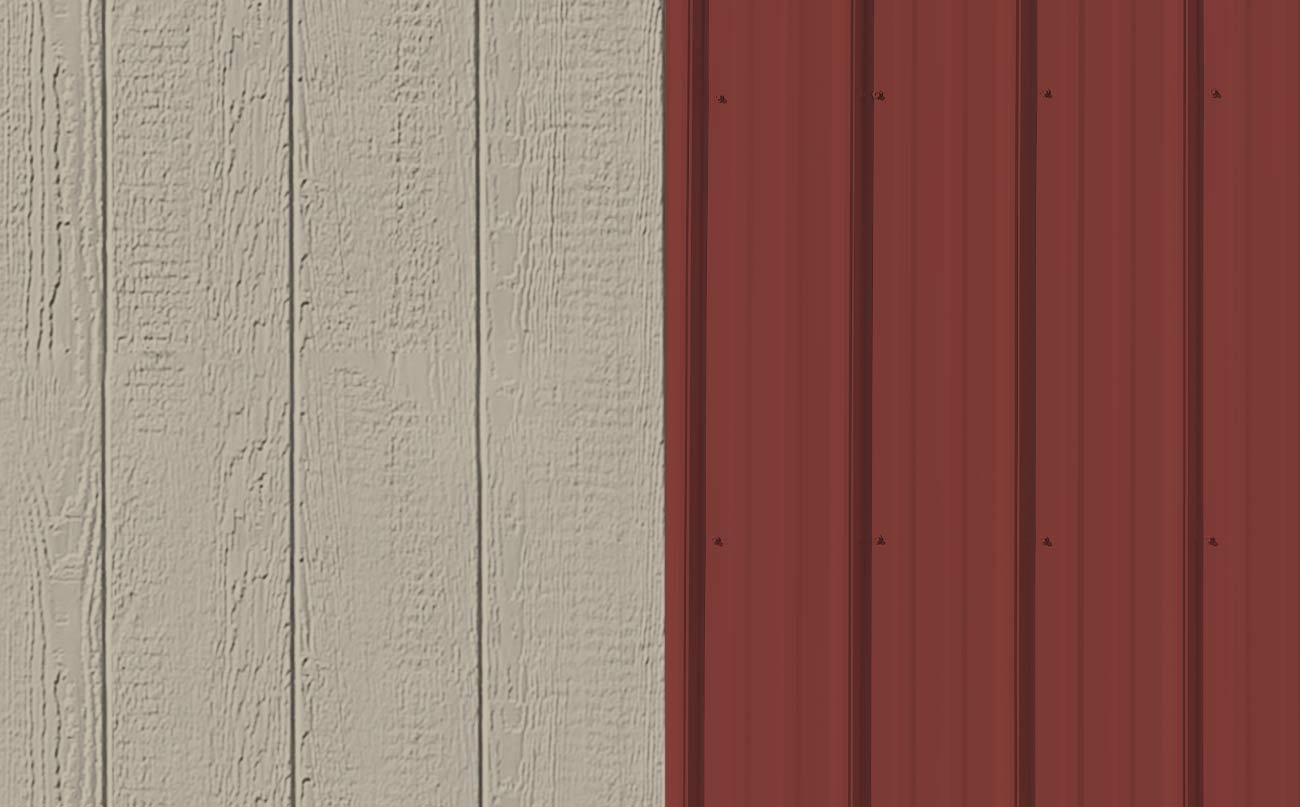 Types of Cladding You Can Choose for Your Home Shed
Aesthetically, cladding can be a standout feature of your property and create a stunning, rich look. It can also be a practical choice. Depending on the outdoor cladding material, cladding might be an inexpensive way to make your shed look new. If a part of your property looks a little worn, cladding can help make it shine again.
Every shed and home has its style and character, so why not show it off? With cladding, you can choose from various materials, colors, and finishes.
What Is Cladding?
Cladding covers the walls and roof of a building, shed, or other structure. It is often used to extend the structure's life beneath it or create a specific look or function for the design. Depending on the type of cladding you choose, your shed may be better protected from the elements and weather, making it easier to use or maintain.  
Types of Cladding for Your Garden Sheds
Tongue and Groove Cladding
Tongue and groove cladding is a type of cladding that consists of boards that are thicker at one end. The thinner end of the board is edged to fit together with other boards.
The boards are warped to allow for airflow, with the thinner end of the board shaped (or grooved) to match the thicker end of the board beside it. You can use tongue and groove cladding on the walls of your shed.
What makes it a best seller is its watertight properties. It provides extra protection against most elements. 
Vinyl Wall Cladding
Vinyl wall cladding can be an alternative to tongue and groove cladding. Like tongue and groove cladding, it includes thicker boards at one end and thinner at the other. The boards can be installed with the thinner end of the board facing outwards, or the boards can be installed with the narrower end of the board facing inwards.
Vinyl wall cladding is sturdy and durable. It is easy to install and does not require special tools or materials. You can also paint or finish it with any paint.
Aluminum Wall Cladding
Aluminum wall cladding is made from aluminum manufactured to look like wood. It is available in a variety of styles. This cladding is durable, easy to install, and easy to finish and paint.
Aluminum cladding for your garden shed is a long-term investment. It's resistant to rust and various outdoor elements.
Overlap Cladding
Overlap cladding presents a more natural look than tongue and groove cladding. It consists of timber overlapping horizontally, allowing rainwater to run through seamlessly. It is typically made of wood, easy to install, and versatile. 
Shiplap Cladding
Shiplap cladding is made of wood. It can be installed in many different ways. It is versatile, durable, and easy to paint and finish. The boards in shiplap cladding are not made to overlap. Instead, the ends are butted up against each other.
Conclusion
Sturdy, long-lasting, and reliable cladding will make your shed weather-proof and high-quality so that you can continue to enjoy it. The different types of cladding give your shed a beautiful look, whether you want a modern look or the classic look of wood. You can also find cladding that matches the look of the existing building. Whether you need a log, shingled, or stone cladding, you can choose one of these.
Mountain View Barns design and deliver high-quality barns, garages, sheds, and other portable buildings at an affordable price. Suppose you are looking for locally-made, quality portable sheds with free delivery and setup.